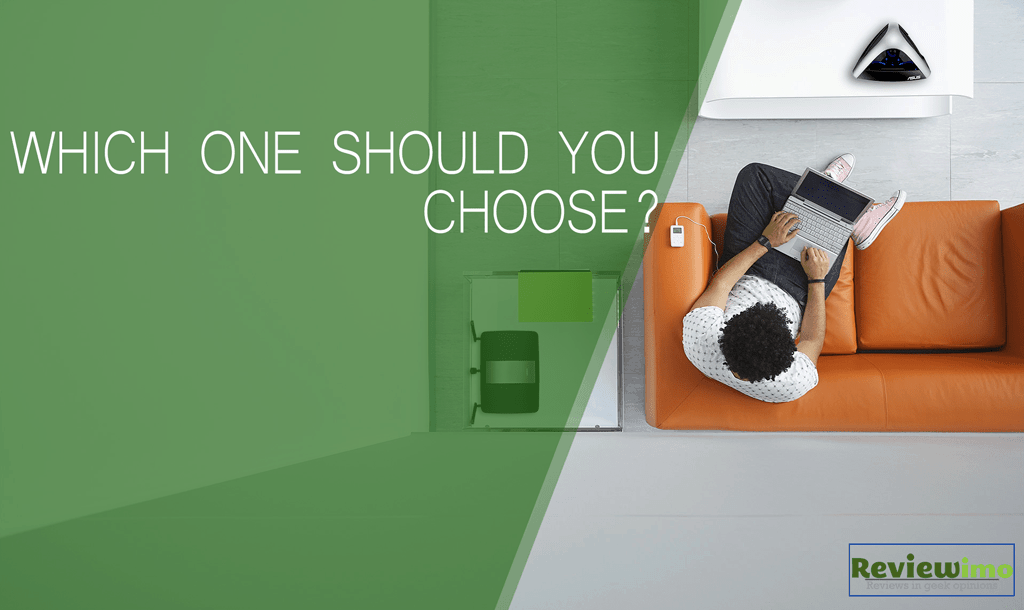 Best 10 Wifi Routers 2020 – Check Before Buy
With the increasing number of gadgets such as tablets, smartphones, smart TVs, gaming consoles, streaming boxes and much more, the importance of the best wifi routers at home or office is indisputable. To play the online game and stream HD videos online you need a stable and strong internet connection.
Playing and HD streaming over your local network can put a lot of pressure on your local network and it will decrease the performance of your internet. And if you are using a limited speed ISP then you will not be able to get a good wireless connection via your laptop Wi-Fi and you will also notice that your connection is getting slow when multiple devices are requesting for a better bandwidth at the same time.
A good Wi-Fi router can deliver you enough throughput and long range performance to offer you a strong wireless coverage everywhere you want it. Let me tell you one thing about Wi-Fi router and that is that there are two types of routers available in the market, one type is with built-in modems and another type is without built-in modems. Though we call these wireless routers, now all the routers have built-in Wi-Fi and this built-in Wi-Fi feature is what making the routers wireless.
Let me come to the point of this post, After researching a lot on the internet and E-commerce websites like amazon, ebay etc. etc. I've come up with a list of Best 10 Wifi Routers. I tried to cover the important section that you should check before buying the best wifi router. This Best 10 Wifi routers List is sorted by me. I had to go through a lot of websites and had to study more and more for each and every router that I've enlisted on this post. I've also gone through all the routers Customer's reviews and ratings.
---
Best wifi routers Reviews & Pros-Cons
#1 Linksys WRT AC1900 Wireless Router : Winner in my opinion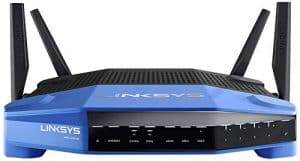 The WRT AC1900 from Linksys is the best and most robust router right now on the market. It is capable of giving high-speed performance and reliability than any other router like this one. If you are searching for the router with long distance coverage and a reliable connection at any range, then the Linksys WRT1900 AC is the best one to get. It can deliver you with the most powerful performance ever.
You will get a speed up to 1,300Mbps on the 5GHz band and up to 600Mbps on the 2.4GHz band. With a price tag of $220 the all new Linksys WRT AC1900 has got lots of amazing and advanced features including ARM-based 1.2GHz dual-core processor, 256MB DDR3 RAM, and 128MB flash storage. eSATA port is the unique feature of this router, which I've never seen in any other router.
This eSATA port can also be used as a USB 2.0 port, though it has another high-speed USB 3.0 port. Four high-performance external antennas are also available in WRT AC1900 router to ensure the long distance Wi-Fi signal coverage without any interference.
Pros
1.2 GHz Dual Core processor
eSATA port for ultra-fast data transfers speed
One USB 3.0
4 external detachable antennas
256MB DDR3 RAM
Dual-Band
Best throughput
Gigabit Ethernet ports (10x faster)
Cons
A little large in size
A bit costly
Runs hot
Geek's Opinion
With the powerful hardware configuration, this router can give deliver you best and excellent performance ever. If you are willing to spend a little extra money to buy a Wi-Fi router with lots of features and long distance coverage then you can go for the superior Linksys WRT1900AC Wi-Fi router.

---
#2 ASUS Dual-Band Wireless-AC3100 Gigabit Router (RT-AC88U) : Runner Up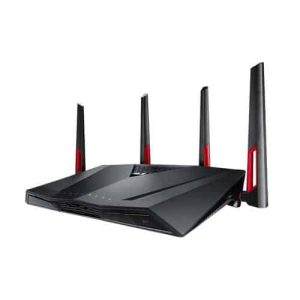 Asus RT-AC88U is the massive one from the giant tech company Asus. It is a dual-band router with ultra-fast AC technology to deliver you the extremely fast speed. If you are a hardcore gamer and you also need to stream 4K media then the Asus RT-AC88U is the complete solution for you.
You can't just call it a router; in fact, you have to call it a digital home hub because of its gigantic set of features. The AC3100 supports MU-MIMO (Multi-User Multiple Input, Multiple Output) technologies which will allow you to deliver all your Wi-Fi clients with the same bandwidth without any interference. To enjoy this latest technology every user must need an MU-MIMO supported network adapter.
With a large price tag of $282 the Asus RT-AC88U wireless router has impressive features. The router has eight Gigabit LAN ports and one Gigabit WAN port and this Gigabit ports can transfer up to 10x faster than normal Ethernet ports.
If you need an additional WAN port then you can convert one of its LAN port and use it as a WAN. Another fantastic feature of the router is that two LAN ports can be used as one to get one lightning-fast connection. In the front side of the router there is one ultra-fast USB 3.0 and in the back side of the router there is another USB port but that is USB 2.0.
Pros
8 super-fast Gigabit LAN ports
MU-MIMO supported
Excellent throughput
Advance Wi-Fi performance
Smart and easy Web interface
Two USB ports (USB 2.0+3.0)
Mobile app to control your network from anywhere
Dual-Band
4K streaming & online gaming
Cons
Expensive
NAS performance is a bit low
Geek's Opinion
If you are a hardcore gamer then this one is for you because this router has all the latest technology including ultra-fast AC technology to give you the extreme online gaming experience. MU-MIMO is also supported by this router. But the only bad thing about the Asus RT-AC88U is the large price tag.

---
#3 Synology RT1900AC Router : 3rd Position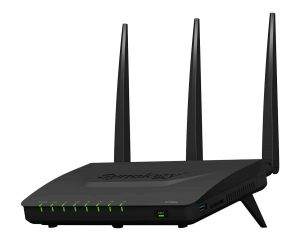 Synology RT1900AC is the very first router from the renowned Network-Attached Storage (NAS) product manufacturer Synology. It is a great combination of a router as well as NAS server device at a good deal. With the RT1900AC Synology is making their way in the big market of routers and it seems to be an impressive debut. At an excellent price of $149.99 the router has some impressive and unique features including dual-band, 256MB DDR3 RAM, 5 super fast Gigabit Ethernet ports including 1 WAN port, 1 high-speed USB 3.0, and SD card reader, which is a unique feature.
Synology specially designed the RT1900AC for houses and offices to offer you an excellent reliable wireless connection. The company added all the latest wireless technologies to deliver you fast and stable Wi-Fi connectivity. You will get the most incredible software experience which can be used easily by a non-techy user also. You can manage your router from anywhere with the help of the DS-router app and the app is available for both Android and iOS platform. Simply you can manage the wireless network, monitor real-time traffic, and control almost every function.
Pros
Dual Band (2.4GHz+5.0GHz)
Quick and Easy setup
1 high-speed USB 3.0 port
Highly strong connectivity with Beamforming technology
Ultra-fast dual core 1.0 GHz Processor
Incredible Wi-Fi performance
NAS server facility
Value for money
Cons
File transfer speed is a bit low
At 5GHz band range is a bit short
Geek's Opinion
The Synology RT1900AC is the first router that is being released by the NAS device maker Synology. It has all the latest features including some unique feature as well to serve you the best. The price of this router is reasonable and in this price range the company is giving the feature of NAS technology also.

---
#4 Linksys EA6900 AC1900 Router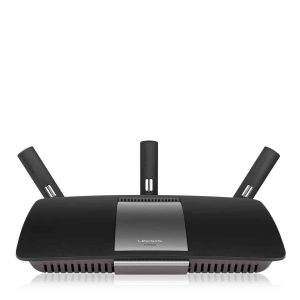 The Linksys EA6900 is a router with modern Wireless-AC technology which will give you a superior speed. The router has got the AC1900 technology, which will give you the best ever speed experience in a router. It has two USB ports including USB 2.0 and 3.0. Most advanced Beam-forming Technology is also included in this router. Dual band (2.4GHz and 5.0GHz) is supported on this router. The price of this router is affordable because the price is only $89.99 at Amazon.
Pros
Dual Band (2.4GHz + 5.0GHz)
Two USB Ports (USB 2.0+USB 3.0)
Wireless 11ac standard
4 LAN and 1 WAN Port
256MB RAM & 128 MB flash
Wireless Security (WPA/WPA2 & SPI Firewall)
QOS Traffic Management
Cons
A bit costly
Sometimes disconnects at 2.4GHz frequency
Get slightly hot
Geek's Opinion
With some of the basic features, this router is also capable of fulfilling your basic demands from a wireless router. It has two USB ports including one USB 3.0 port which is 3x faster than typical USB 2.0 port.

---
#5 TP-Link Archer C7 AC1750 Router
TP-Link Archer C7 is a dual-band wireless AC Gigabit router with a reasonable price. To deliver the lightning-fast Wi-Fi performance the Archer C7 has the next generation Wi-Fi standard, which is called AC technology. This newest Wi-Fi standard – 802.11ac is 3x faster than wireless-N technology and it is capable of offering a combined wireless data transfer rate up to 1.75Gbps. The Dual-Band technology of the router can provide you two different wireless speeds; at 5GHz band, it will offer you up to 1300Mbps of wireless speed and at 2.4GHz band it will offer you up to 450Mbps of wireless speed.
If you want a router to stream HD media and also to play the online game then this Archer C7 will be the superior choice for you. Five Gigabit Ethernet ports including one WAN port can transfer data up to 10x faster than normal ports. Three detachable external antennas can cover a long distance with a reliable connection as well. There two USB 2.0 port at the back of the router which can be used for printing and also for shared storage.
At a price of $89.95, you can get all these features in the Archer C7. You can get this router from Amazon and enjoy the wireless performance on your home network.
Pros
Not costly
Excellent wireless coverage
Five super-fast Gigabit Ethernet ports
Better Dual-Band performance
Two USB ports for connecting USB devices
WPS button
Three detachable antennas for reliable connection
Cons
High-speed USB 3.0 port missing
Average performance on the 2.4GHz band

---
Geek's Opinion
TP-Link Archer C7 is the popular one among the customers at Amazon because of its affordable price range. With a low price the router is providing lots of incredible features and the throughput performance of this router is excellent. If you are in need of a router that can cover a long area with a great stable connection then go get this one.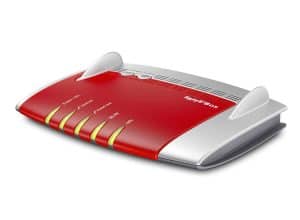 The AVM FRITZ! Box 7490 is an incredible router with a scarily fast speed. This would be a bit unfair to call the AVM FRITZ! Box 7490 is just a router; in fact, this is a digital hub with lots of key features. The router has dual band (2.4GHz+5.0GHz) and super fast wireless 802.11ac technology.
This latest wireless standard can offer you a speed up to 1300 Mbps. IPv6 technology and the unique telephony function are two unique features. 2 high speed- USB 3.0 ports is also another great feature to connect mass USB storage. With the price of $300 this router is capable of doing lots of amazing functions.
Read: AVM FRITZ! Box 7490 – Full Review, specs, configuration Guide
Pros
Dual-Band (2.4GHZ/5.0GHz)
2 USB 3.0 ports
Wireless 11ac and 11n technology
DECT base station for 6 telephones
4x answering machine
Cost effective
NAS & Media server
Cons 
No dedicated WAN port
Costly
Cheap-looking design
Poor USB performance
Geek's Opinion
AVM FRITZ! BOX 7490 is not actually a router it is a digital hub with multiple functions like you can use it as telephone and the even answering machine also. But $300 price is too expensive for anyone to afford it and the design of this router looks like industrial. But if want a combo pack with all these features then you can spend some money on it.

---
#7 Amped Wireless RTA1750 Router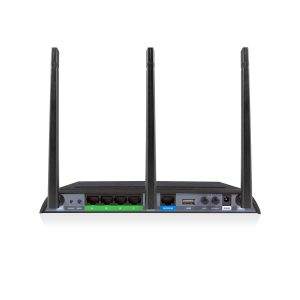 Amped Wireless RTA1750 will be a highly powerful router with lots of signal expander and three detachable external antennas, which can expand the coverage of the router to a new range. This router can cover a long area with its wireless AC technology, so this router can be the good choice for those who want to cover a large area with wireless data.
The Amped Wireless RTA1750 router comes with the Amped Wireless High Power technology, which consists of 12 improved amplifiers and 3 external dual-band antennas. With this technology, it can offer 3x the range than other routers. To connect all your Wi-Fi enabled devices such as smart TV, smartphones, gaming console, PC, and other devices with the incredibly fast wireless connection.
With the help of dual-band, you can connect multiple devices with the same bandwidth without any obstacle. One more amazing feature of this RTA1750 is that it supports Wi-Fi scheduling. With a large price tag of $126.84, it can deliver a good performance and excellent coverage too.
Pros
Easy Setup and configuration
12 amplifiers to boost coverage
3 high-gain external antennas
Great coverage
Seamless HD streaming
Cons
Expensive
Average throughput
No USB 3.0 port
#8 Netgear D6400 AC1600 Router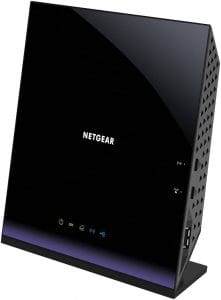 The Netgear D6400 is a wireless router that delivers an ultra fast speed with its dual band Gigabit Wi-Fi. The router uses an outstanding technology named Beamforming+. This technology ensures stronger, more reliable wireless connections with fewer dead spots around your home network. AC1600 has a 128 MB memory with a dual core processor and a 128MB ROM. It has got 4 LAN ports and 1 WAN port and the top speed of this router is up to 1600Mbps.
The price of Netgear D6400 AC1600 router is $200 at Amazon and it deserves this price range with its great features.
Read: Netgear D6400 AC1600 Full Review, Specs, Configuration
Pros
Wireless 802.11ac/n standard
ADSL2+/VDSL2 modem
Dual Band
5 Ethernet ports including 1 WAN port
2 USB 2.0 ports
Cons
No wall-mountable feature
No high-speed USB 3.0 port
Geek's Opinion
The Netgear AC1600 has all the features to satisfy you except the high-speed USB 3.0 port. With the beamforming+ technology the router is able to deliver you a robust connection at a long distance. You will get a good performance with latest AC technology.

---
#9 D-Link DIR-818LW Wireless Router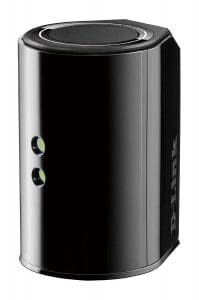 The D-Link DIR-818LW is a wireless AC750 Dual-Band cloud router and this router will fit in anyone's budget. Because the price is only $80, so it is not much expensive. You can carry this router with you anywhere because the router is small in size and the most amazing fact of this router is that the router comes with four different colors. With the tiny size, the router still got four Gigabit LAN ports and a Gigabit WAN port as well. There are two LED indicators on the front side of the router, which will notify you about the power and the internet connection as well.
Read: D-Link DIR-818LW Wireless AC750 Dual Band Cloud Router Reviewed
Pros
Dual-Band
5 Gigabit Ethernet ports (4LAN & 1 WAN)
1 USB 2.0 port
Smart LED indicators
Inexpensive
Advanced Cloud feature
Cons
Not cost effective
Low Wi-Fi performance
Can't cover long distance
Geek's Opinion
This dual-band router has some impressive feature including one USB 2.0 port and 5 Gigabit Ethernet ports, which is 10x fast than normal ports. But its coverage is not long enough for bigger house or office.

---
#10 TP-Link TL-WR841N Wireless N300 Router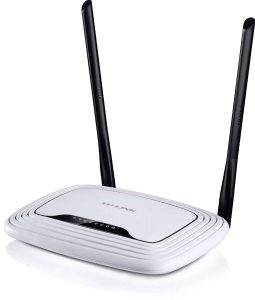 TP-Link TL-WR841N Wireless N Router is one of the cheapest one in the market with lots of great features. The Wi-Fi router is designed for wired and wireless both platforms to give you the compatibility to use it. At the price of $17 this router is Dual-Band supported, isn't that amazing? It has three Wi-Fi standards including 802.11n, 802.11g, and 802.11b and the 802.11n standard will give you a fast speed up to 300Mbps.
Pros
Dual Band
Wired & Wireless both setups
Fast 300N technology
Inexpensive
Easy Setup
QOS IP
Cons
No USB port
Design is not too attractive
Geek's Opinion
This is the cheapest router in the market with some good feature including the 300N technology which can deliver speed up to 300Mbps. It also supports dual band and QOS traffic management and it is not even expensive. Unfortunately, there is no USB port on this router.

---
Before buying the best router let's learn about Wi-fi
What is Wi-Fi Router?
A wireless router is a device that delivers the function of a router and it also acts as a wireless access point. It determines the next network point to which a packet should be delivered toward its goal. If you have only one computer in your home with a great internet connection then you can give access to your internet to all of your other devices with the help of a Wi-Fi router. According to many Engineers, a Wi-Fi router can save your network from hackers because router creates individual IP addresses for every device. So on the security issue, a wireless router is well enough to give you the best security of your network.
What is a router used for in a network?
Wi-Fi Routers are used for forwarding data packets between different networks wirelessly. If you want to cover an area wirelessly then you will need a Wi-Fi router, it will cover the area you want to cover. You can connect all your devices of your home or office with a Wi-Fi router and it will offer you to share or pass data such as web pages, Email, IM and much more.
What should you check before buying the best Wi-Fi router?
Nowadays every house, apartment, business, the organization even on the street vans have Wi-Fi routers. Actually in this technological era routers are everywhere and it has now become an essential part for us. Via a wireless router we can simply share data files and stream media between smartphones/Wi-Fi devices. If you want to buy the perfect Wi-Fi router for your home or office, you need to know some facts about routers which are really necessary. Otherwise, you will suffer from the poor performance of your weak router.
Check Network Standards
Wireless network standard is the first feature you should check before going for a router. Router manufacturers are introducing latest and more powerful features like other gadgets. 802.11 was the first wireless network standard that introduced in 1997, but now there is few more standard has been added with the passing time including 802.11, 802.11g, 802.11n and 802.11ac. Don't think that these are just random numbers, these numbers define the capabilities of a router.
802.11ac is the newest wireless standard and this standard is now available on all the latest routers. This new wireless standard is capable of providing up to Gigabit speed, which is faster than other previous standards. 802.11ac is compatible with older standards also and now it is accepted worldwide. So look for a router that has 802.11ac wireless standard while buying a Wi-Fi router.
Speed of Wi-Fi Network
You always need to check the speed declarations that are declared by the manufacturers; almost every company listed the maximum bandwidth on the level of their boxes. The good thing about the wireless routers manufacturers is that now they are using the latest 802.11ac standard, which will offer you to stream HD video over your wireless network.
Now all new Wi-Fi routers have built-in Ethernet for manually wired network connections. Unfortunately, in a cheap router, the speed is only 100Mbps, but you can get a good router with a Gigabit speed by spending a little extra money. The important fact is that your router will give you the speed as per your broadband speed and it won't provide a faster speed than your existing network speed. A Wi-Fi router will only share your network with Wi-Fi enabled devices at your home. Buy a router that supports Gigabit speed (up to 1,000Mbps).
Check Security Standard
To keep your network secure and also to avoid any sort of interference you need secure your wireless network. While purchasing a Wi-Fi router you need check that it got minimum WPA2 security. Always don't depend on WEP, because this security standard can easily be broken by a free tool that is available on the internet. So you always should check that the router you are buying at least has WPA2 security standard.
Now there are few routers that are made to provide advanced security to your home's wireless network.  These routers have so many advanced features and security standard such as extra encryption, monitor cloudily, blocking hackers from the network and you can even check what your users are browsing.
Single/Dual/Tri-Band
Single band and even dual band routers are available for years, but now there are some other companies who are introducing tri—band routers also.
Single band means only 2.4GHz frequency band and dual-band means 2.4GHz and 5.0GHz frequency band combined. Dual-band routers are better than single-band routers because with a dual-band router you can setup two different wireless networks. With these two different wireless networks, you can improve your network speeds.
In a tri-band router there is another 5.0GHz band and obviously, it is better than single and dual band routers. This router can be useful to you if you have lots of Wi-Fi supported devices on a single network and you need to provide all the devices to a strong connection. But it is not necessary if you have an average house; tri-band is for big office/apartment.
So you can go for a dual-band router while purchasing a Wi-Fi router.
Wireless Cloud Management
One of the most amazing features of latest Wi-Fi routers is the Cloud management. Cloud management means you can manage and control your wireless network from anywhere in the world and you can do it with an app or from their websites. Almost every router has this facility now and this is a fascinating feature which is really amazing. You need to buy a router which supports cloud management.
USB Support
USB ports are now available on many routers but the main question is that what the use of that USB port is. By using USB ports you can connect a USB mass-storage to add Network-Attached Storage (NAS). You can also plug a USB hard drive and your network will have access to that storage.
You also need to check the versions of USB, whether it is USB 2.0 or USB 3.0. Data transfer rate of USB 3.0 is faster than USB 2.0, so you can buy a router with USB 3.0 port.
Price Range 
The price of Wi-Fi router starts from $20. If you have an average house or office then you can buy a router within $100 and if you have a large apartment or big organization you can buy a router within $400. With this big price range, you will get a long distance coverage which will get your job done.