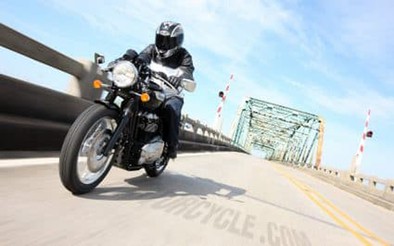 THE BEST MOTORCYCLE HELMETS AVAILABLE IN 2020
Whether you're riding a motorcycle as your daily routine or simply a weekend pleasure, it's important to remember to have your own helmet for comfort and most importantly safety.
It's important to view helmets just as precious as your motorcycle as it protects your head from potential injuries if a crash were to ever happen. This article will provide you with important information on the best motorcycle helmets, the various categories of helmets, the factors to consider when choosing and buying one, and the best ones on the market today. 
With the proliferation of motorcycle helmet brands across the industry, choosing the best one can be overwhelming.
The market is flooded with a wide range of helmets in different features, designs, and price range. Do not worry though because this article will help you find the right one. Reviews of the top helmets in 2017 are also provided further down this article. For more informative guides and reviews, our homepage offers excellent evaluations of different products – as we like to keep you updated.
General Motorcycle Helmet Categories
If you were to go into most stores to purchase a helmet, you will be introduced to different classifications of the motorcycle helmets. You need to be mindful of the following categories so as not to waste your time and money.
OPEN-FACE HELMETS
This helmet is perfect for daily commuting or city riding with its better ventilation for the face of the rider. The helmet does not protect your chin against any impact, and less protection against traffic accidents. It exposes you to sun rays, pollutants, dust, and other road elements. Meanwhile, it looks cool when it is used with the standard cruisers, café racers, scooters, and bikes.
FULL-FACE HELMETS
This serves as the general helmet that suits most of the motorbikes and that is great for all-purpose use. The helmet gives the highest and a complete head from your skull's bottom up to the front chin. Its wind visor can both be closed or opened based on your preference or the condition of the weather or road. It is ideal for speed junkies and guarantees the best protection for the touring riders. This, however, may not be comfortable for the city rides with its limited ventilation.
HALF-HELMET
Reputable as 'bao' or 'tabo' (coconut shell), this helmet is considered by riders as a brain bucket as it provides less protection compared to the other helmets. Motorcycle half helmets are not recommendable for any type of serious motorcycling with its capability to cover only a part of your skull.
MOTOCROSS HELMETS
This helmet is specifically designed for use in the tough road as it can easily be identified from the other helmets with its pointed chin protection, large open face, and peak for optional goggles use for eye protection. It is best when used for motocross competitions, trail riding, and street riding when you use your motored bike as your daily shuttle.
MODULAR HELMETS
The combined full-face and open-face helmet is a head protection that can also be used as an alternative to the half-face helmet whenever its chin is flipped up. It is more versatile because it is sturdy when at high speed and also functional for touring, hence it's called as the flip-up helmet. It even offers comfort for cruising and city riding.
DUAL SPORTS MODULAR HELMET
This new motorcycle helmet category is a combination of dual sports helmet offering more functionality, comfort, and flexibility based on your preference. It is primarily used as motocross, dual sport, and modular helmets. You are also allowed to customize the helmet based on your motorbike with its latch clicks and screw turns.
The Benefits of the Use of Motorcycle Helmets
Considering the necessity of custom motorcycle helmets for the safety of motorcyclists, there's always a risk of inflicting injury due to the open design of the motorcycles. This is where the advantages of using theme take their toll. So why do we have to get our own helmet?
Advantages
Disadvantages
Best Motorcycle Helmets in 2020
Safety is all that matter why you need to get a helmet for your motorcycle ride. Yes, there is a lot to choose from on the market, which is why you have to be very careful in choosing the best one. Below are some of the best that you can include in your shortlist before you come up with the best one.
 (4.5 / 5) (97)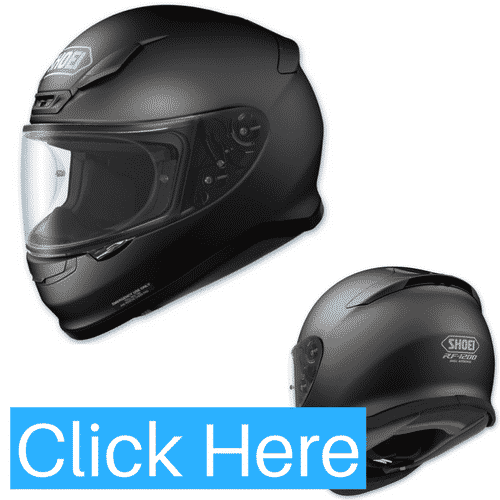 Look no other than Shoei RF-1200 Helmet if you preferred a helmet that offers excellent protection level. The helmet is solid build making it an impressive selection of the other helmets. Its shell is made from materials that have the capability to withstand impact and that is durable and effective in offering you with the highest safety level.
The 3D Max Dry System II Liner of the helmet serves as one of its significant highlights. It helps absorb your sweat keeping your head dry when worn. However, this can pose a problem as it may cause a foul odor. It also has superior ventilation that ensures sufficient circulation of air. With its availability in four sizes, see to it that you will find what perfectly fits in your head for protection and comfort. The only complaint of its users is the difficulty of its maintenance.
 (4.4 / 5) (504)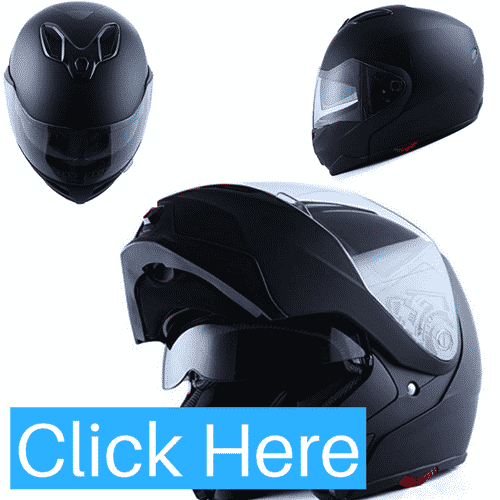 Get the best bargain with 1Storm Motorcycle Street Bike Modular with slightly fewer quality materials that may fit into a very low price range. Feel comfortable with its inner padding that is also removable for washing. You may open its face guard and raise it to increase visibility or block the sun whenever necessary. The shades on the front inner side of the helmet protect your eyes from the wind and sun.
According to many, the helmet's sizing runs smaller than the others. This only suggests that you get a size that is larger than the normal so you will get a better fit. They confess the efficient work of the design of its visor, face guard raising mechanism, and sun screen. Should you want to invest in different sun shades and visors to match your needs, never worry because they can be interchangeable. The exchanging process is made easy through its quick-release levers. There are some users of this product who noted the low quality of its plastic materials.
 (4.3 / 5) (367)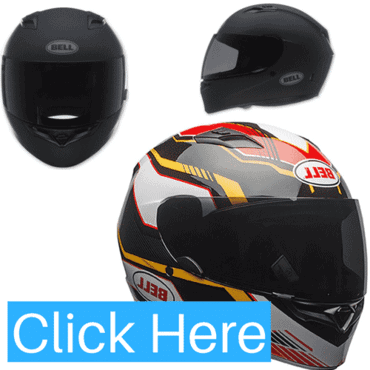 Full-face helmet Bell Solid Adult Qualifier Street Bike is intended for high aerodynamics with just a little or no buffeting when you're riding at high speeds. You have the option to open its side and top vents for greater air flow for a cooler feel. It offers you an excellent view allowing you to install a transition visor. The visor operates through a patented quick release system making them easy to swap when necessary. It turns solid when attached to the helmet. It is available in various designs and colors to help you match the look and style on your motorbike.
Bell Solid Adult Qualifier Street Bike is recommended for both beginning bikers and the expert ones who are in search for cheaper and easy helmet. Although insufficient chin curtain and excessive wind make its use in cold weather or by those who would want a silent ride, this helmet is specially designed for motorcycle riding. It brings great value to your money since it is cheaper compared to the other helmets. This helmet has enough features for a good riding experience with its lightweight design, built-in speaker holes by ears, and stylish outer look. It also comes with a contoured cheek panel design. However, it produces high wind noise.
 (4.4 / 5) (281)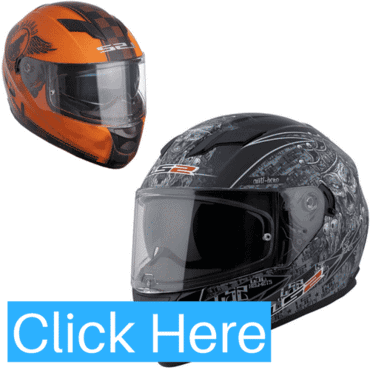 LS2 Stream Omega Full Face Motorcycle Helmet is the best in providing full protection to your face. The helmet is made of multi-density EPS that makes it rigid notwithstanding the strong force caused by the crash. It will literally give you relief and have peace of mind. It is proven comfortable. The breathable fabric found inside your helmet serves as the source of the necessary ventilation even when it is hot.
Its Twin Shield System offers clarity that you need to boost your driving visibility. This shield can be adjusted easily even when you are wearing a glove. It comes with a quick-release system chin strap designed to have a tight snap when wearing the helmet on and off. It also has an elegant finish and a solid quality. Users of LS2 Stream Omega Full Face Motorcycle Helmet also notice that the padding of the helmet is minimal and that it can back portion.
 (3.9 / 5) (450)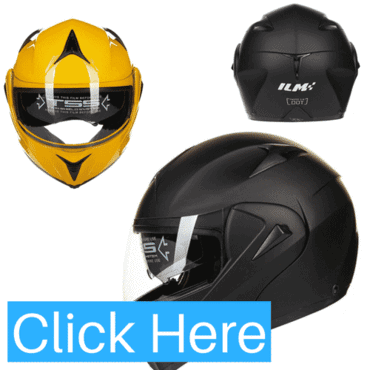 Consider ILM 10 Colors Motorcycle Dual Visor as your option when you're searching for the best motorcycle helmet. The product is feather-rich and so stylish but can be bought at a lower price than most of the premium helmet models. Its convertible design makes is remarkable with versatility. It may serve as a full-face helmet for a maximum protection. It can also be an open-face helmet should you need more ventilation and get the feel of the breeze while driving.
ILM 10 Colors Motorcycle Dual Visor's design is optimized to lessen wind noise penetration. You will have an assurance of a noise-free ride even when you're driving at high speed. Its EPS Impact Absorption Inner Liner ensures your safety as it absorbs shock during a collision. It also allows you to enjoy wide vision unlike in the other helmets that limit your vision. The helmet also comes with a quick-release latch, economical price, minimal graphics, and a stylish design. However, many customers noted that it is smaller than the stated size and can have a foul chemical-like smell.
Tips on How to Choose the Right/Best Motorcycle Helmet
With the above information and the top-rated motorcycle helmets presented, it is now time to select which among them satisfied your needs for a helmet.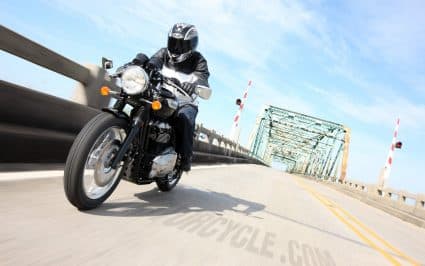 Keep the considerations below for your assessment and remember that motorcycle safety should be given thought before every ride.
Pay a visit to many retail stores offering motorcycle helmets. It is best if you try on various helmets and look for the safety standard stickers that are attached to them.

Make a comparison of your preferred helmet models. Enlist the models with the same brand or those from different brands. Always be mindful of your finances, compare these models so you may pick the best helmet.

You also need to consider factors like the make and model, comfort, and cost. Always remember that you are also paying for the brand besides the product itself.Take note of the type of motorcycle that you want to ride. Most of the adventure-touring riders prefer Modular helmets as they allow them to raise the face shield when needed.
Look properly and assess the features and specifications of the best helmets on the market. You need to understand their features and their attributes. Consider the respective style or design of the helmets, their size and weight, the shape of your head, shell or protection, and ventilation.

Check for the safety standards of the helmet you opted to purchase and get the one that fulfills the significant road safety requirements. It should have the functions like penetration protection, retention and impact protection.

Know the type of helmet you will need for a ride. Decipher the helmet you will use for. An expensive and high-end helmet may not be the best to buy if you are a beginner. It is far more important to get your feet off the ground safely. Your helmet should have the capability to provide you with fair protection.
Technology advances at a quick speed leading to the manufacture of different helmet brands and new versions of helmets like the Bluetooth motorcycle helmet. Selecting the most appropriate helmet in line with your safety, budget, and safety is not a straightforward job. The features, accessories, sizes, and other additional functions of the helmets make the buyers' decision making more complicated especially those who are going to buy a helmet for the first time.
Let's keep in mind that safety is our number one goal. Knee pads, elbow pads and more should be considered when riding. So no matter which motorcycle you are using or what kind of a motor rider you are, always have the rule of thumb on safety. Always opt for the quality safety highlights of the shortlisted helmets regardless if it asks you to pay an extra for it. Both your life and safety are simply priceless. Remember to get a hold on the best value for your money.