Advantages of  Video Doorbells
---
Wireless: One of the most amazing advantages of having a wireless video doorbell is that you won't have to be tensed about any wiring. Because it doesn't need any wire. Since it is wireless you can control it from anywhere.
Security: Security is the best part of these wireless video doorbells. You don't need to open the door to see who is there and you can also talk to the visitor without opening the door which will ensure the safety of you and your home. As it has a front camera you can check who came at your door while you are not at home.
Portability: As it is a wireless system you can install it anywhere at your home.
Night Vision: another great advantage of these video doorbells. Though, all the doorbells don't have this feature.
Let's come to reviews of some of the best wireless video doorbells 2017.
---
 Video Doorbell Reviews – Top Pick 3
       #1 SkyBell HD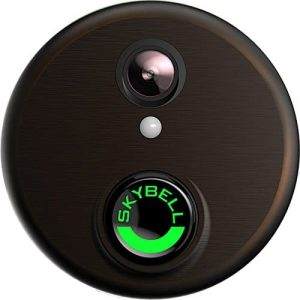 SkyBell emerged first in the list of our best wireless video doorbells. With its unique features, it got the position of number one. You will get an alert notification on your Smartphone or tablet if anyone at your door rings the doorbell. SkyBell HD Wi-Fi doorbell comes with an easy installation method.
You can read the manual to setup the doorbell. To install it you don't need any technician you can install it by yourself. It is that simple. This video doorbell has all the features that are required to call it the best video doorbell. A quick alert system will notify you within a very short time and after seeing at who is at your door you can decide whether you should open your door or not.
You can see a video on your phone's screen and most interesting part is that you can even speak with your visitor. There are good features such as motion sensor technology, an infrared LED night vision to watch visitors at night clearly, a camera with HD resolution, the light indicator on the doorbell with a ring button and a switch for the speaker and microphone.
Its round-shaped aluminum finish design makes it look attracting enough. You can set it anywhere at your home as per your desire. The function video door phone intercom is amazing to use.
Pros:
No battery required
On-Demand video
Motion sensing technology
Screenshot enabled
1080p HD video resolution
Quick alerts even if visitor doesn't ring the bell
Full-Color Night vision to see at night
Cons:
Speaker quality is average
---
     #2 Ring Video Doorbell Pro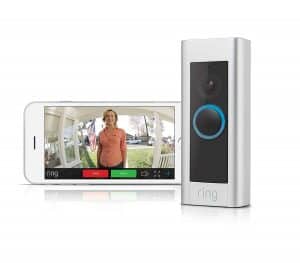 Ring video doorbell pro got the 2nd position in the rundown of ring video doorbell reviews , with some of its incredible features. It is one of the best video doorbells in the market right now in compare to other wireless video doorbells. It comes with a Wi-Fi connectivity of 2.4GHz or 5 GHz band to deliver you the best connection at your home. This doorbell is compatible with both iOS and Android devices which make it versatile.
You can check all the video footage with the Ring app and this app will allow your phone to receive alerts if anyone at your door. It provides you the feature to keep an eye on your home 24/7 and even when you are not at home.
The most interesting part is that with the help of microphone and speaker system you can speak with your visitor. High definition video will give you a clear view of your home's entrance to ensure high security. Right now a question can arise in your mind that what about the night?
To see a clear view at night there is a night vision infrared LED. Advanced motion detection technology is used to keep your entrance more secure. Installation is fast and simple you can install it by yourself.
Pros:
Ultra-Slim eye-catching design
 1080p wide-angle HD video for a clear view
Night Vision is available
Two-way talk
Advanced Wi-Fi connection
Motion Detection Sensor enabled
Weather resistant
Cons:
---
     #3 Ring Wi-Fi Video Doorbell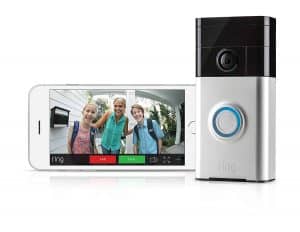 The Ring video doorbell technology is popular among the people right now. in our ring video doorbell reviews , the ring is known for the security system they made. With its two-way noise canceling audio communication you can talk with your visitor who is at your door.  You can also check if your home is safe or not from intruders, thieves or strangers.
The best part is that you can control it from anywhere. A front facing camera in the doorbell allows you to see if it is your guest or an unknown person. This type of doorbell ensures the security of your house and your family as well. Ring have an app for their video doorbells, with this app you can control the doorbell with your fingertips as it is for your mobile.
You don't need to worry if it is night as there is an infrared night vision to see clearly at night. There are options to select faceplate that suits your design. Available faceplates are Venetian Bronze, Polished Brass, Antique Brass and Satin Nickel and these finishes will be matching your style I hope.
You can designate zones to monitor with the custom motion sensor technology. Within a minute you can set up the ring doorbell it is that easy and simple. I can assure you that this doorbell can keep your house safe and sound.
Pros:
Crystal Clear HD video
Noise canceling two-way audio communication
Fast and simple installation
Night Vision feature is available
Compatible with both iOS and Android
Cloud recording
Cons:
Having problems with choosing the Top wireless video doorbell? let us help you the way to choose the best doorbell with our best wireless doorbell reviews. Stay Calm and go through the whole article on the video doorbell reviews. You will learn a lot about the best doorbell camera reviews you want to choose for your security. We have you covered with the video doorbells reviews  and the ring  video doorbell review. We put these wireless doorbell camera through the paces so you know which one will work the Best for you
If you are worried about the security of your home then the time has come to leave all the worries from your head. Because today I'm here to introduce you to a new technology that will secure your home from any potential threat. Wireless Video Doorbell is the name of this technology. Now you are thinking about what is the Wireless Video Doorbell? A wireless video doorbell is a doorbell with a front door camera and Wi-Fi enables the system which can be controlled from any smart device.
The best part of this video doorbell system is that it is no wire is required while you are installing it. You don't even have to be at home to check who is at your door. You can get all the information you need about the visitor at your door with just a simple tap. The wireless technology is now updating on a regular basis to make the security of your house more reliable and efficient.
When anyone at your door knocks you don't have to shout by asking who's there? Your  video doorbells will let you know who is at your door. This can keep a safe distance between you and your visitor if he is a threat as you don't need to go close the door to see who it is. With the help of this doorbell, you are safer than ever. It can eliminate the risks that can happen by opening the door for any stranger.
After going through this article of best wireless video doorbells you can have the idea of getting the best wireless video doorbell. In this post you can get all the information about the best video doorbell then it will be easier to make your purchase.