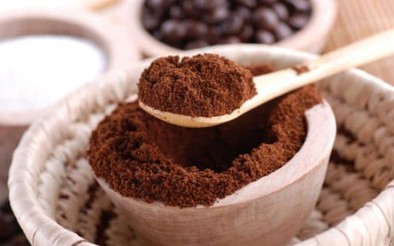 Coffee grinders
If you are a coffee lover like we are, then you may know how frustrating it can become when you just can't properly grind coffee beans in hopes of developing that specific taste desired!
Now, there are different techniques to grind coffee, but using a coffee grinder can make the task easier for you.
We recommend that you should learn how to use a coffee grinder because freshly ground coffee provides a smoother and fresher taste for consumers. There are several grinders on the market, but most of them are not as good as manufacturers may claim. Read through this article to find out more about coffee grinders and how to use them!
Everyone loves to have a perfect cup of coffee in the morning, and coffee lovers cannot start their day without it. A problem with coffee is that it goes stale quickly. It is why the flavor of a pre-ground coffee is not that good. A good coffee grinder is the one that uniformly grinds coffee beans so you can get the most taste out of it. For more informative guides and reviews, be sure to stop by our homepage as we like to keep you updated and educated!
WHY USE A COFFEE GRINDER?
It does not sound good if you must grind beans every day for making your coffee. That is where the grinder comes into play. Its job is to pulverize the beans to provide you with maximum flavor and specific taste.
Now, there are a wide range of grinders on the market available for those in need of them. Some of them are quite affordable while others are very expensive, so it's best to take specifications and pricing into consideration. You can choose one that suits your budget and requirements.
Following are some grinders that we thoroughly researched, and we consider them the best ones for you. There are a few things that you need to know about grinders before purchasing one.
THE NEED FOR A COFFEE GRINDER
A well-made, consistent, and powerful grinder is vital to get the most out of your coffee beans whether you want a coarse grind or a fine grind. Following are the best coffee grinders that range from twenty to two-hundred dollars.
There are mainly two types of coffee grinders which are: burr grinders and blade grinders. Some coffee enthusiasts suggest that one should never go for the blade grinders. They say that blade grinders do not uniformly grind coffee beans to particle size which is necessary for predictable and even brew. The good thing about blade grinders is that they are quite cheap as compared to burr grinders. Not everyone can afford expensive burr grinders. The grinding of burr grinders is always better than blade grinders. Burr grinders are available in varying prices which is a relief for coffee lovers.
HOW BURR GRINDERS WORK
The concept of burr grinders has many details. In simple words, the working of burrs involves two ceramic or metallic pieces with serrated surface. They are positioned at a calculated distance from each other. Their rotation crush the coffee beans according to the requirements.
THE BEST COFFEE GRINDER 
 (4.1 / 5)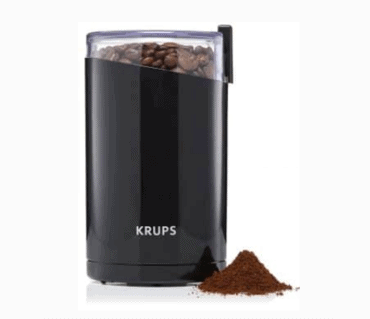 It's safe to say that most coffee experts are not to found of blade grinders, but the advantage is that these grinders are affordable. One can easily enjoy freshly grounded coffee at his home for such a low price! Though, for many people, it is more than enough although your local coffee shop's staff may never approve of it.
Operation – First you pour coffee beans in the top and then hit the grind button. After a short amount of time, you'll find that you now have fineer grinds of coffee that you can use in an espresso maker if that's your go-to choice. Now, unfortunately It's not suitable for pour-over coffee makers or the French Press that require a more coarse grind of coffee.
Although you can use this grinder for coarse grinding of beans, it end up leaving small chunks of coffee that cause a weaker or more bitter brew. The grinder provides enough uniform particle size for fine grinding that most people cannot notice.
KRUPS grinder is very easy to clean. You can use a pastry brush to wipe out the leftover grinds. It enjoys the reputation of the best blade grinder. Its low price also makes it very popular among people. People can also use this grinder to grind nuts and spices like cardamom and cloves.
 (3.9 / 5)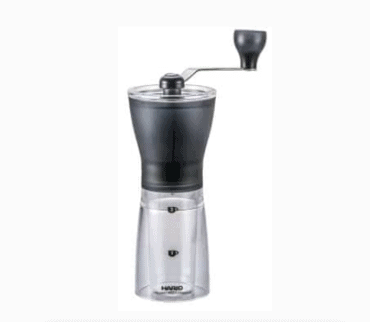 When the Hario Mini was designed, they had one thing in mind; to ensure that users had the best grinds and easy usage.
We guarantee that you will love the mini grinder because it cranks out some quality grinds especially when you put some elbow grease into it. The Hario Mini Mill Slim Hand is for those who simply enjoy manual labor and have reasonable time in hand. You simply place some of your favorite beans into the tank and crank the handle. Next, you continue to grind until the beans are ground into fine particles. The grinds are of a higher quality and become uniform, but the downside is that it's only enough for one cup of coffee.
The mill of the grinder is made of ceramic which should last for lifetime if we kept. While, the elbow portion is made of glass and it should be carefully handled. This grinder in particular, should last longer for user if you were to compare it to that of the high-end grinders available.
Hario offers the grinder in a smaller size mainly because this ensures that it's easy to clean and storable in a cupboard. You can also take it with you on a campsite or hotel room when you are traveling. As far as pricing goes, it's relatively inexpensive and is a higher quality coffee grinder, if you do not mind the labor that is needed.
 (4 / 5)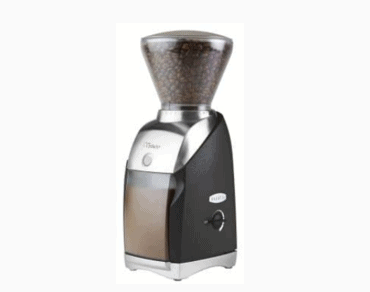 Baratza Virtuoso is a professional-grade grinder with 40mm conical burr. It is an expensive grinder, but it is also the very best one. The grinder has forty different grind settings that range from coarse to fine and in between. You will need to find the setting that gives you the perfect taste. The pulse button of the grinder enables you to grind directly into the filter basket of an espresso machine. There is a sixty second timer in the grinder which helps one to get the perfect grind every time he needs it. It avoids too long running which changes the taste.
Virtuoso provides perfect particle size for French Press, and is a more reliable grinder than some of the more inexpensive models. The grinder has DC motor with gear and electric speed reducers that slow down the burr to four-hundred-and-fifty RPM. The function reduces the undesired variation in the size of the particles. It also reduces static and noise. Experts claim that it produces finely ground particles which are as fine as particles ground by expensive and high-end grinders.
Baratza offers a good repair program; therefore, you will get a free care for your grinder whether it requires full cleaning or repair.
 (4.2 / 5)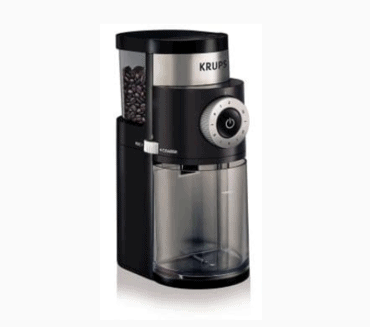 KRUPS GX5000 Burr Grinder is the perfect choice when you need something better than a blade grinder and your budget is tight. The device is a flat metal burr grinder that has nine grind settings. It can grind coarse beans for French Press coffee and fine beans for expresso. The device has a bean container with a capacity of eight ounces. You pour the beans into the container and adjust the setting. The grind setting is done according to the number of cups of beans which ranges from two to twelve cups. When you press the start button after pouring in the beans and selecting the grind setting, it automatically shuts off once the beans are ground. The grind is powdery and soft.
The grinder is very effective for coarse grinding of coffee beans. It produces a consistent grind size as compared to blade grinder. Therefore, it is very suitable for French Press. However, the device is not easy to clean. You will need to learn the tricks to clean this grinder. Some customers say it has a tendency to break earlier than other high-end models. The device comes with a two-year warranty; therefore, getting it replaced or repaired is not that difficult.
The KRUPS grinder has a reasonable price as compared to other mid-range coffee grinders. However, it does not consistently grind uniform particles which high-end grinders are more likely to do.
 (4.1 / 5)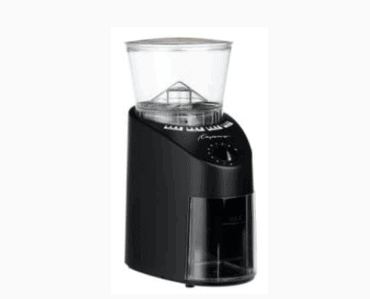 It is a fact that high-end burr grinders are truly expensive. However, there are some options for people to buy one for less than hundred dollars. Capresso 560.01 Infinity Burr Grinder is a very good mid-range grinder. It is conical burr grinder that consumes a power of 100 watts. The device has sixteen different settings which can provide you all types of grinds. You can have coarse grounds for an excellent French Press coffee, and you can also enjoy super fine grounds for Turkish ground coffee.
The conical burrs of the grinder are made in Switzerland. They provide very consistent and fit grind. The bean container of the device has a capacity for eight and a half ounces of coffee beans. The other container which is called grounds container can occupy freshly ground coffee of four ounces.
The Caspresso Infinity comes with a built-in timer which ensures that your coffee beans are not ground too fine. The device has one year warranty, and it is easier to clean.
The grinder is not as consistent as other high-end grinders that cost more. It is one of those burr grinders that cost less than hundred dollars. Therefore, it still makes a good option for many people.
 (4.2 / 5)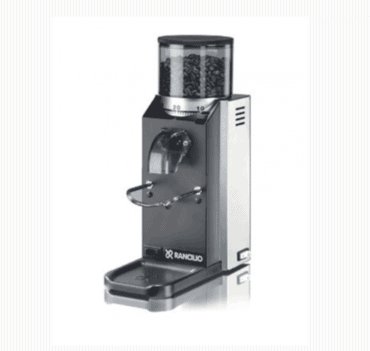 Rancilio SD Rocky Coffee Grinder is a high-speed burr grinder with a grinding speed of 1725. The device has fifty-five different grind settings. It is known as a very high quality grinder with excellent performance. The manufacturer tests each device at their plant before sending it out. It is the reason why there is dust of coffee beans when it arrives at your home. The objective of Rancilio to ensure that your device works perfectly.
The grinder is equipped with burr grinders of 50mm which are of commercial grade. The device can grind a little less than eight pounds of coffee beans in one hour. The grinding of Rancilio SD Rocky is as good as the grinding of your local barista which means the device's performance is outstanding.
The grinder has removable metal fork which keeps porta filter in the right place. The design of this burr grinder ensures that everything goes into the porta filter after grinding. It is an excellent choice for people who are fond of espresso. In case, you are not a lover of espresso, this device is still very useful for you. All you need to do is to remove the fork which is done quite easily. Now you can use the wide range of grind settings for the type of brew you desire.
Despite have a very high grinding speed, the grinder does not make any annoying noise. It surprises many users that the operations of the grinder are quiet although it is a very powerful device. This feature makes it one of the best options for you if you are fond of Turkish coffee. The device is durable and provides consistent grinding. It is also easy to clean and operate; therefore, it is ideal coffee grinder for small families.
 (3.8 / 5)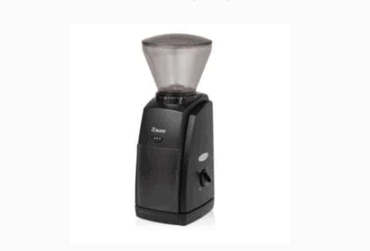 According to the experts of coffee, you get what you pay for in the world of coffee. All of them will tell you that you need at least hundred dollars if you want a good coffee grinder. It is true because there are many high-end models of coffee grinders that are fancy, and they cost hundreds of dollars. Baratza Encore Conical Burr Coffee Grinder is a very good coffee grinder for various people.
It is an amazing burr grinder for coffee lovers who want such a device at home. Encore offers more than enough for majority of users. The device has forty different settings for grinding. The range is from coarse to fine and everything in between is included. You will need to experiment with the settings to find the perfect grinding setting for your taste.
Encore comes with a DC motor which has both gear and electric speed reducers. They slow down the burr speed to four-hundred-and-fifty RPM which is required for reducing the undesired variations in the practical size. The two speed reducers are also responsible for reducing the static and noise of the grinder. The model makes a very good grinder because its performance is as good as expensive high-end burr grinders.
The company offers a very good repair program. Therefore, your grinder will get a free treatment whether it requires full cleaning or machine repair. Many people say one does not needs an expensive high-end grinder because this one is really good.
 (3.8 / 5)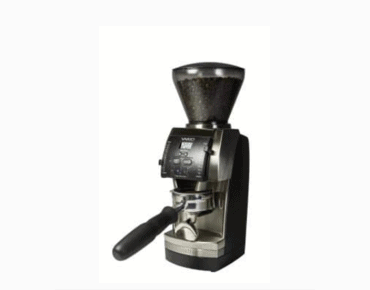 Baratza Vario 886 has a stylish appearance which makes people fall in love with it. It is a combination of ease and style that brings the best flavor out of your coffee beans.
It has a grinding speed of less than five-hundred RPM, and it has two-hundred-and-thirty grind settings which makes it so special.
The ideal size of this burr grinder allows it to fit anywhere you like. People are using this model in their cafés, offices, and kitchens. The wide range of grind settings allow users to have different types of grinds that ranges from coarse to very fine. The coarse grinds are very good for press pot while the fine grinds are excellent for espresso.
The grinder has ceramic flat burrs of 54mm. The performance of the device is excellent, and the results of the grindings are very accurate.
You will have to explore the wide range of settings in order to discover the setting which brings out the flavor of your choice.
Flat burrs
Conical burrs
Steel burrs
Ceramic burrs
The burrs of coffee grinders are categorized depending on their shape and material. Despite having different shapes, the grinding performance of flat burrs and conical burrs is pretty much the same. Flat burrs consist of two rings which are parallel to each other and have some distance between them. The coffee beans are entered the space where they are sheared into grounded coffee. In the case of conical burrs, there is a cone in the ring which grinds the coffee beans to the desired level.
Ceramic burrs are mostly used in manual grinders. They perfectly grind the espresso beans. The steel burrs are used more often in coffee grinders because they are affordable. The lifespan of steel burrs is less than ceramic burrs.
FEATURES OF THE BEST COFFEE GRINDERS
There are grinders which allow users to measure the amount of coffee required for a cup of Java. However, most of them allow users to grind as little beans as possible. High-end grinders allow users to choose how fine or coarse they want to grind coffee beans. There are different types of brewing methods and each of them requires different type of grinding.
Types of Grinds – There are four types of grinds: Coarse, Medium, Fine, Turkish.
Coarse ground is best for percolators, French Press, and cold brew. It looks like large salt particles. Medium ground is for vacuum pots, pour-over, Chemex, and drip coffee. It looks like thick sand or pieces of grit. Fine ground coffee is excellent for espresso machines. It looks silky and smooth in appearance with no individual grain. Turkish coffee is suitable only for Turkish coffee pots as it feels more like a fine powder.