Knee pads
Next to helmet, knee pads are considered by many as the most commonly used item for protection.
The Best Knee Pads for Work
Troxell Supersoft Leatherhead .
Recoil Knee Pads.
LuWint Protective professional knee pads.
Crain Comfort Knee Pads.
Klein Tools Tradesman Pro Knee Pads.
Gamba Tools Gel Elite heavy duty Knee Pads.
KP Industries Pro Ultra Flex III knee Pads.
Dewalt DG5224 Heavy-Duty .
You'll find that there are knee pads now available that designed provide a full amount of protection, are lightweight outer shell, all while promising quality comfort while providing protection on hard surfaces. Also, you'll learn most offer customers a peace of mind towards future injuries, with protection from greater accidents, but these tend to be bulkier in size.
| BEST SELLERS RANK: | PRODUCT: | AVERAGE CUSTOMER SATISFACTION: |
| --- | --- | --- |
| #1 | DEWALT DG5204 Professional Kneepads | (4.3 / 5) |
| #2 | Troxell USA Large Super Soft Knee Pads | (4.5 / 5) |
| #3 | Damascus Imperial Neoprene Knee Pads | (4 / 5) |
We're sure that you can just imagine how painful and uncomfortable it is when you injure your knees. But thanks to the arrival of technology, knee pads have been developed to prevent these types of injuries or protect your knees while healing current injuries. 
The pads are specifically designed to guard the knees in case you fall, are given a blow or simply twisting your knee. Knee pads help absorb shock to reduce the stress that your knees may possibly get and lessen the severity of the injury using a strong outer shell. We that you do not take the significance of your knees lightly. Protecting your knees also protects your ability to walk, jump, run, stand up, and/or sit down comfortably. According to the study conducted by the "American Journal of Epidemiology," wearing knee pads mitigates the chance of injury. It only suggests the proper wearing of knee pads in any circumstance when an injury is likely to happen. Use knee pads to ensure that you are injury-free and continuing to be healthy.
Knee Pad Usage
Knee pads are used in various jobs and fields. The pads are often used as athletes' preventative measure in different disciplines to protect their knees from potential injury or lessen its effects. Individuals who are into snowboarding, skateboarding, mountain biking, and BMX wear knee pads to keep their knees protected from injury or serious damage.  Knee pads are beneficial to construction workers or its equivalent occupations to lessen the occurrence of arthritis other than protection from bruises. They are also used in gardening, cleaning your house, or doing other chores around the house. They make an assurance for your skin not to suffer damage and become healthier.
HOW TO CHOOSE THE RIGHT KNEE PADS
Yes, everybody says you need not or you are not supposed to kneel down. You still do because there are circumstances when kneeling down is inevitable. Being well protected is the safest way to be in any sport or work where you're dealing with circumstance that harm your body. Be sure to review the best protection for your hands as well! Continuing on, selecting the right knee pads with hard plastic outer shell will allow you to comfortably kneel down and get protection from hard surfaces. So what should you consider when deciding what pads to choose?
Take some time to think about the following factors…
PERFECT FIT FOR YOUR KNEES
Though a knee pad can be considered the best on the market, it will not properly protect your knees without a good fit. The size of your work trouser is one of the most relevant aspects of perfectly fitting knee pads.The cut of the work trousers also matters in fitting the pad. Look for trousers with Twisted Leg design to keep your knee pad pocket on the best, right spot to improve protection. A good knee pad will always stay in place when kneeling and standing up.
QUALITY DESIGN OF THE KNEE PADS
Your knee pad's design greatly affects its fitting on your knees. Make sure that the pad protects your kneecap and its surrounding areas. You will recognize if the pad is well-designed if it will close around your knees sides and prevents it from sliding off the pad.
TYPE OF WORK OR ACTIVITY BEING PREFORMED
Consider the number of times you kneel and stand up in a day and the amount of work time you spend using your knees. The flexible and light knee pad is suitable when most of the time you are working inside and kneel down on occasional basis. An all-around pair of knee pads is ideal if you kneel down more than occasionally. Choose a knee pad with innovative shock absorbing qualities if you are standing and kneeling throughout the day. 
MATERIAL
It is always significant to note that knee pads are specifically made for the work you do with a perfect fit. Some features that may affect your choice of knee pads include their shape, durability, shock absorption, flexibility, ventilation, and security.
THE BEST KNEE PADS AND KNEE PADS FOR WORK IN 2020
#01 DEWALT DG5204 Professional Knee Pads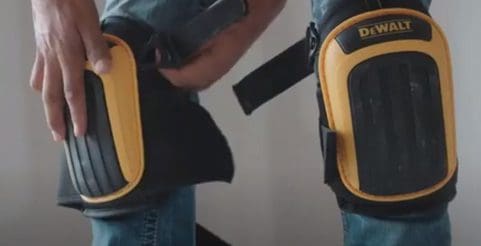 (4.3 / 5) (963)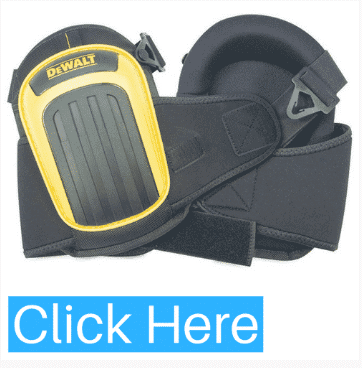 This pair of knee pads is developed to protect knees from different knee injuries while at work. The pads are made of neoprene, polyethylene foam, and ballistic poly material. They are suitable for youngsters and adults since they are equipped with adjustable straps. What makes them different from the other products is their non-skid caps for safe and stable work on any surfaces without a slip. Their durability and defensive capability make them perfect for any working conditions and situations. They are easy to reposition on your knees for constant comfort and stability with their upper tabs. The ease of putting it on through its heavy-duty clips is also worth trying. Users' only complaint against these DEWALT DG5204 Professional working pads is their availability in the color black only.
#02  Troxell USA Original Super Soft Knee Pads
 (4.2 / 5) (336)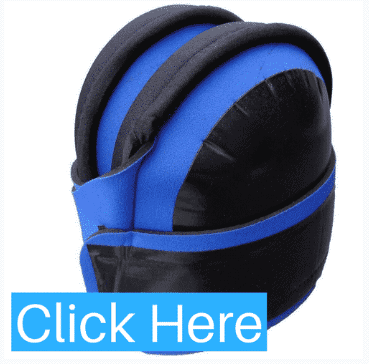 You definitely need additional magnification in your safety lenses if you typically wear reading glasses. This can best achieve when you purchase Dewalt Reinforcer Rx Bifocal Safety Glasses as they provide users with 1.5 biofocal magnification in lenses. Such lenses are found to be impact resistant with an ergonomic grip intended for an extra comfort. They are distinctive as they have a combined feature of a reading glass and a safety glass. Their distortion free lens offers fatigue free use. More and more customers are loving these protective glasses with its average 4.4 out of 5 consumer rating. They are vocal on the optical support the lenses provide for lesser than the cost of prescription safety glasses. The enhanced protection and better vision of the glasses make them very impressive to customers also they have adjustable straps. Customers are amazed of their magnification which is stronger than what they expect. However, it has been warned not to wear them over your prescription glasses.
#03 Damascus DNKPB Imperial Neoprene Knee Pads
 (4.1 / 5) (210)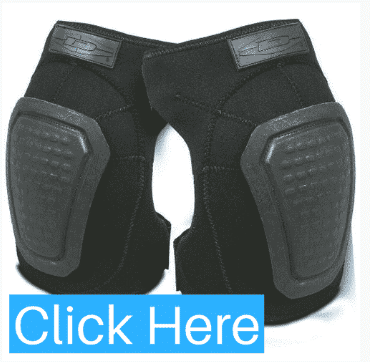 These knee pads are designed with stealthy durable neoprene outer shell featuring reinforced stitching throughout the product. Their maximum durability comes from their Trion-X Non-slip reinforced grip technology. The comfortable feel they offer is due to their shock absorbing foam and second layer polyurethane foam. Never worry about their security as their multiple Velcro closures and adjustable elastic straps are designed for a great fit for different knee girths. They are the best in terms of manufacturing innovative knee pads for superior, unmatched personal protection. However, there are users of these pads who noted the failure of the pads to fasten all the way with their straps .
#04 Custom Leathercraft 345 Professional Knee Pads
 (4.1 / 5) (166)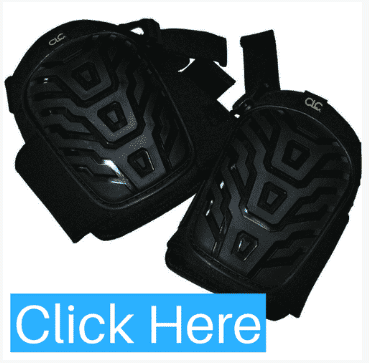 Generally, Custom Leathercraft 345 Professional Knee Pads are considered as professional-grade kneepads with hard and tread-pattern cap for durability. These professional pads are crafted from tough polyester fabric with breathable neoprene lower straps. Their large caps are innovatively oversized for maximum protection. They have two-strap fastening for additional stability as well as a buckle-eye fastener-equipped upper elastic strap for a quick fit. These straps will help secure the pad onto your leg without shifting or falling off. They are also made of closed-cell padding that is thick and high density for comfort all-day long. Comfort and protection are primary in these knee pads, which is recommendable to hard-working knees. One of the few negative feedbacks from the consumers is the insufficiency of the knee pad straps in keeping them tight on your knees failing to stay in place. also they have ultra flex but no thigh support.
#05  Custom Leathercraft (313) Heavy-Duty Leather Knee Pads (Double Thick Lining)
 (4.1 / 5) (122)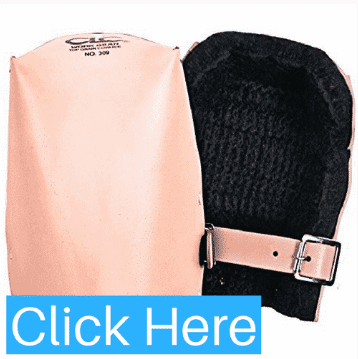 These traditional style Custom Leathercraft (313) Heavy-Duty Leather knee pads are intended for workers. The pads are professionally graded with double-thick water-repellent felt padding for a very comfortable fit. They are very unique in a sense that their adjustable leather straps come with steel buckets. Another highlight of this product is the fact that it is riveted for more strength. Custom Leathercraft 313 Heavy Duty pads are available in a single size that fits all. According to those who have already used these professionally graded knee pads, they are uncomfortable to their knees; the straps seem to bite their knees and their recommendation for their further improvement.
#06  ASICS Ace Low Profile Knee Pads
 (4.4 / 5) (321)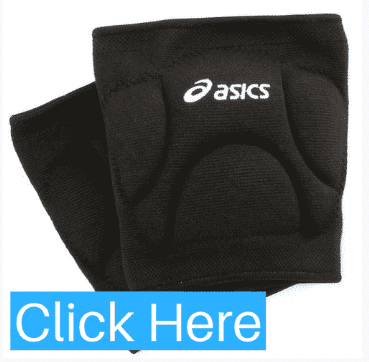 Primarily designed for knee protection, ASICS Ace Low Profile knee pads help protect knees from injuries when doing sports like volleyball, but can also be used in other physical activities that necessitate protection. The product is made of rubber, cotton, and nylon; which is available in white or black. Unless knee dimensions are appropriate to the offered size, the knee pads are youngsters and adults. The low profile feature of these pads ensures maneuverability, comfort, and flexibility. Their anti-microbial material lessens the formation of bacteria that causes bad odor, allowing you to stay clean and fresh all along no matter the intensity of your activity. The ventilation zones are strategically placed for quick dissipation of heat throughout your body and for the cool air to flow in. Keep the product machine washable for long use. The only downside found regarding ASICS Ace Low Profile knee pads is their availability in one size only.
#07  Mongoose BMX Elbow and Knee Pads
 (4.2 / 5) (1,315)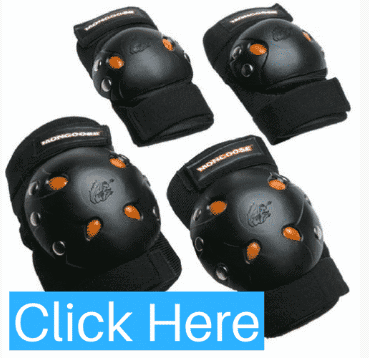 If you are looking for protective pads both for your knees and elbows, Mongoose BMX Elbow and Knee Pads are perfect for you. These knee pads come with shock absorbing padding inside, which is great at preventing any serious injury. The exterior part of the pads is clad with mesh material, allowing them to fit snug just around your elbows and knees keeping them secured to limbs to prevent any movement even in intense activities. Their plastic hard shells protect knees against any kind of scrapes and cuts that may possibly occur when you fall on a hard surface like asphalt. They are very easy to wear and use because of the mesh material. Breathability is another highlight making this product notable as it prevents sweat accumulation that will only make your wear uncomfortable. Their Velcro closure makes them simple thus allowing you to fit them to your legs and arms tight, but without restricting you to move freely and enabling you to run, play sports, or do any activities with them on. You can even do strenuous activities without even compromising your elbows and knees as they provide excellent injury protection while being convenient for anyone who would want to wear them. Only two things you may wish Mongoose BMX Elbow and Knee Pads manufacturer should improve: the pads only come in one color and size.
#08 ALTA 52913.00 AltaCONTOUR Knee Pads
 (4.4 / 5) (119)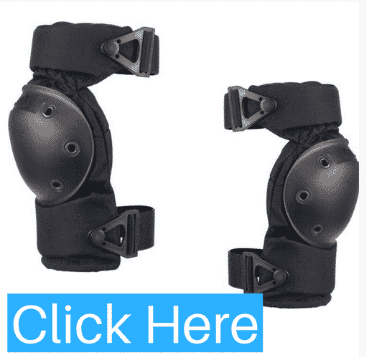 Biomechanically-designed ALTA 52913.00 AltaCONTOUR Knee Pads promises comfortable fit and great knee motion. The knee caps of ALTA 52913.00 AltaCONTOUR are flexible and soft for traction and skid resistance. Their compression recovery ½' foam padding offers firm and consistent backing without bottoming out. Debris and dirt are kept out and moisture is wicked out with their finished brushed tricot liner. The Non-Slip Rubber Strip is sturdy enough on their back inside for great comfort. Bunching is being prevented with their dual strapping system. Their Alta Strapkeeper System of these pads helps secure the extra straps from flapping. ALTA 52913.00 AltaCONTOUR Knee Pads, however, requires you to wear long pants so as not to chafe your knees from their rubber backings.
With the main pointers provided and the reviews of the best knee pads in the market today, you may now have an idea of what to do next. Just take note of the useful and wonderful features of each of these products and you'll surely end up getting the right pads to protect your knees. Go ahead and take a keen assessment of these pads, narrow down your decision, and select the best. Keep in mind that it's important to make the best buying decision based on reviews and comparisons!
Manufacturers these days offer different  for different purposes like dancing, work, acrobatics, military, and sports. These pads are also designed with particular properties like flexibility, lightness, stylishness, breathability, and comfort other than their primary functions
.
Knee pads are intended to protect against various injuries like bruises, wounds, abrasions, and bumps. However, manufacturers need to invent them in a way that both assure protection and their other features. This is the very reason why there are different materials used in their manufacturer to maximize the required features. Knee pad straps or sleeves can be made of different materials such as neoprene, polyester, nylon, cotton, spandex, and others. Padding can be made of PE, PVC, XPS, EVA or PU foam, rubber, carbon fiber, plastic, neoprene or nylon foam, or any other high density and durable material. The type of padding is also significant other than the materials. The padding may come seamless with grooves or can be made of bubble type or hexagon type pads.
Note the difference of knee pads from each other when it comes to their closures. Although sleeve type pad does not have closures, they may feature Velcro closures for wrapping or the adjustable straps if they are adjustable . Traditional ones aside, these pads have other types namely rolling knee inserts, and kneeling pads.
Since they are designed for their specific purposes, they also differ in terms of protection level and functionality. Just take for instance the ones for dancing and sports which are more flexible and comfortable while those for military and work are denser, more durable and thicker.