Welding gloves
Welding is one of the toughest jobs that requires special skills and dexterity.
A welder is well exposed to various types of risks and fatal injuries.
Therefore, choosing the best welding gloves is essential to protect yourself from potential hazards. When you browse the market in search of the best pair of welding gloves, you must keep a few things in mind.
This article you will guide you on selecting the best pair of welding gloves and review the top brands and inform you on what exactly a welding glove is.
When you are going to purchase a pair of welding gloves you are required to remember a few points. The size, material, insulation and efficiency are the major factors during the selection period. It's always helpful to have the best reviews in mind when ordering your next product. Be sure to check out our homepage for more help in a buyers market!
| BEST SELLERS RANK | PRODUCT | AVERAGE CUSTOMER SATISFACTION |
| --- | --- | --- |
| #1 | US Forge 400 Welding Gloves Lined Leather, Blue - 14" | (4.6 / 5) |
| #2 | Lincoln Electric Traditional MIG/Stick Welding Glove | (4.6 / 5) |
| #3 | Welding Gloves, Split, L, Wing, BlackBlue, PR | (4.4 / 5) |
Buying Guides
When you are going to purchase a pair of welding gloves you are required to remember a few points. The size, material, insulation and efficiency are the major factors during the selection period.
MATERIAL
Leather is most common raw material for welding gloves. In fact, there are various types of leather used for manufacturing each having separate qualities. Elk skin is the most suitable material for flame, heat and fire resistance but is rare and expensive. Pigskin and cowhide are good to wear in MIG welding. Goatskin and other thin material are recommended for TIG welding.
SIZE
One size does not fit all! It was found from our research that some good quality gloves were poorly rated because of incorrect or incomplete size details. Additionally, we have a common tendency to go by the nomenclature of the size, e.g. 'large' or 'extra large'. The definition of 'large' or 'small' varies from person to person according their own physique. Therefore, we recommend you to read the product details carefully and find out if the gloves will actually fit you.
LENGTH OF THE WRIST
Not all welding gloves give full coverage to your wrist and arms. When you are welding, your fingers, wrist and arms are exposed to splatters. Ideally, a good pair of welding gloves should cover your wrists. You can also check the length of the arm if you are seeking extra protection.
THE BEST WELDING GLOVES REVIEWED
 (4.6 / 5) (950)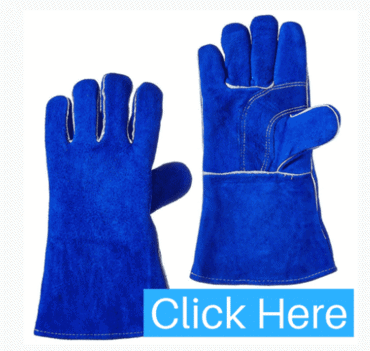 Rated with 4.5 out of 5 stars by the consumers, US Forge 400 Welding Gloves tops our chart. There are various reasons to recommend this item. The quality assurance and protection both play important roles. The fine grained superior quality gloves are made of leather. These protect your hands from ultraviolet rays and molten metal. Additionally, you are entitled for a hassle-free 90 days warranty period. Their excellent price range makes it a good deal if you are looking for gloves for forging and metal working.
Pros
US Forge 400 Welding Gloves are designed to protect your hands from injury and burns caused by molten metal.

These gloves are made of high quality leather that offers you comfort and durability.

The leather body is locked and stitched with cotton.

It is affordable and best in quality.

The color does not fade away after washing.
Cons
The gloves do not cover entire hands.
 (4.4 / 5) (331)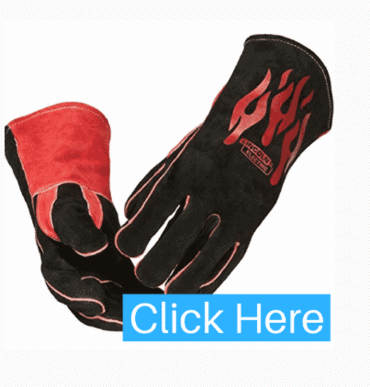 Products from Lincoln® are noteworthy for their service and quality. These electric traditional MIG/stick welding gloves are well made. If you are looking for a simple but premium quality gloves for extra protection from spatter and heat, these gloves are ideal. The upper area is made of cowhide. Wearing these gloves for longer duration is made comfortable by sock lining while Kevlar stitches with welted seams add durability.
Pros
Lincoln Electric Traditional MIG/Stick Welding Gloves are made of cowhide.

Each joint is secured with Kevlar stitching.

   

These are general purpose gloves to protect your ands from the heat and flames.

Additionally, the thumb pads allow better finger-tip sensitivity with the help of full sock lining and add durability.

The large size of the gloves fits easily.

The gloves offer additional features of red flame style on upper their splits.
Cons
According to the consumers, the flexibility of these gloves loses after coming in contact with heat.
 (4.4 / 5) (104)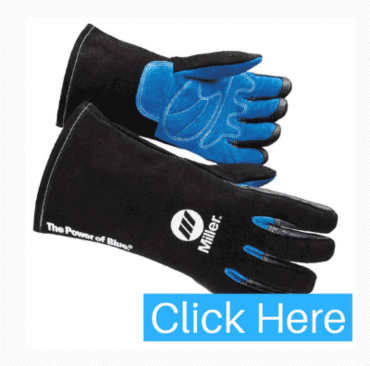 These welding gloves are made of superior quality leather, Fleece/Foam and cowhide. Miller welding gloves are fit for MIG and stick welding and other heavy duty jobs. A pair gloves can protect your hands from flying sparks and flame ups. One side of the split gloves is made of soft yet durable leather and the other is of cowhide. The color options are black or blue. Both the cuff and back are made of cowhide. Strong Kevlar stitching ensures durability.
Pros
Miller Welding Gloves are flame and heat resistant.

The manufacturers have designed the gloves in a way that they easily sustain heavy use.

The overall length of the glove is 13 inches and the cuffs are 5-inch wide.

The gloves are flexible as well as comfortable.
Cons
One of the customers has reviewed the product and said that the gloves are very comfortable but not durable.
 (4.3 / 5) (95)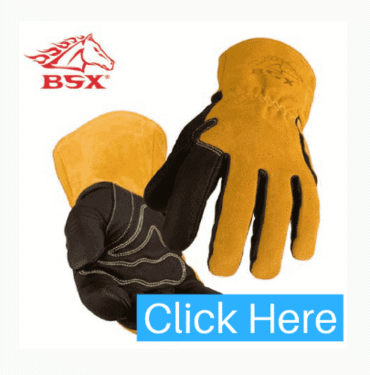 Revco welding gloves are made of leather with fleece lining. The gloves are classy, durable and comfortable to wear. Perfect for MIG welding, these gloves are also famous for being water-proof. The padded palm area gives comfort.
Pros
These split gloves are made of fine-grain pig skin, therefore, are comfortable to wear. Pig skin is known to resist heat, so do the Revco welding gloves.

The underside, i.e. palm area is covered is thickly padded.

Customers have appreciated the fact that these are properly insulated.

Kevlar stitching prevents risks from flames.
Cons
Customers have liked the product overall, but some issues with the size persist.
 (4.4 / 5) (113)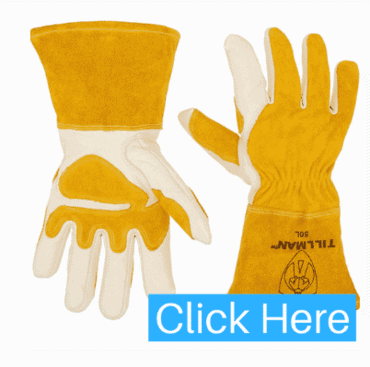 Tillman is one of the finest and top brands. The well reputed MIG gloves from Tillman are quite popular for their comfort and quality. Engineered for excellence, these gloves are made of flame resistant cotton and cowhide. Seamless forefinger is one of the witty features so you don't need to take these gloves out each time you operate remote controls and other controlling units. These MIG gloves work well when it comes to protecting your hands from flames and splatter. Seams are stitched together using Kevlar threads. Carded elastic at the back ensures the glove stays in your hand without the need of adjustments.
Pros
Tillman welding gloves are usable for commercial and residential work.

Seamless forefingers help you work comfortably without taking them off.

The body is made of cotton, because it is cooler than other materials. It is also royal blue flame retardant.

The sleeves are specially treated and tanned for better heat resistance.

Another plus point is the inside pockets. You may carry small soap stones or other important items. These pockets are protected with anodized button snaps.
Cons
Buyers have reported cases of low heat resistance power in the palms.
In the end, we would like to emphasize on wearing welding gloves for heavy-duty work and welding. It is needless to say that when we work our fingers, arms and wrists are more prone to accidents than any other part of the body. Proper protection before welding means wearing special helmets, uniform, eye-glasses and gloves. In order to help you, we reviewed the best welding gloves which are most appropriate and best rated and we hope that you find it useful.