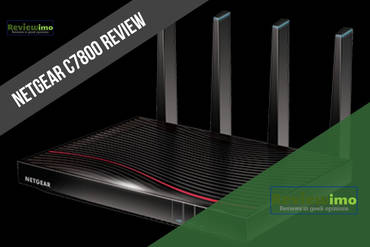 Netgear C7800
The new Netgear C7800  review cable modem and router is the latest and greatest from Netgear. The company has always been known for making superior networking equipment like cable modem and router. In fact, they have a long legacy of almost 20 years since they initially formed back in 1996 and they used that legacy to make top-notch devices for homes as well as companies and large tech firms. Their word is usually as good as it gets. Why is the C7800 a great choice of high speed cable modem router ? What are some of the specifications that make it good router ? Well, let's give it a look and find out. We have the answers in our review.
Ultra High Speed Cable Modem Router
The Netgear C7800 cable modem and router is advertised as a premium modem plus router solution. It's specifically put out there as a possible replacement option for your cable company's modem. Netgear promises to give you a better deal by giving you greater performance for the cable modem router.It also makes it a point to tell you that you'll be saving the high equipment rental costs that your ISP slaps on your bill every year. It's fitted with all the necessary ports and features you would want in a modem.
See Reviews & prices Here
Why Netgear C7800 high speed cable modem is You Best choice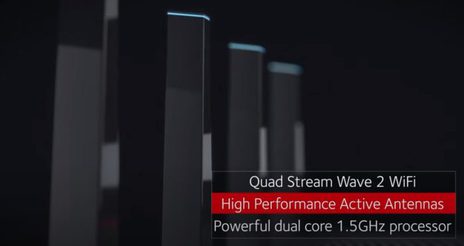 To get on the technical side, here are the specifications of the Netgear C7800.
Dimensions: 10.40 x 12.40 x 7.50 in
Weight: 3.15 lbs
Ports: 2x USB 3.0 Port 4x Ethernet Ports (4x LAN), 1x Co Axial Cable Port
Wireless Capabilities: Dual-Band AC3200 Wi-Fi @ 2GHz and 5GHz
ultra high speed: Up to 2 Gbps (Ethernet), Up to 3200 Mbps (Wi-Fi) docsis 3 1
Netgear C7800 Review
In terms of its design, Netgear c7800 hasn't gone too all out with the Netgear C7800. Rather than purposefully going for a sleek or modern look, the modem has been kept fairly clean. And for a good reason too. Since this modem is all about performance and cost-saving, it makes little sense to go for a high-class look. And thankfully, the C7800 steers clear of anything that invokes gaudiness or a non-functional form.
Instead, the design is kept minimal and clean as possible. It has a rectangular form factor with a slim profile. The material is plastic, which is durable enough to sustain a few knocks while also not going for a cheap look.
That's not to say that the design hasn't been touched up in places to make it stand out. On the top of the unit, you'll find a curved wave pattern going through from one side to another. A single red curve highlights the nice contrast of the otherwise glossy black finish.
On the front face, you'll find the company logo along with all LED switches. These are used for things like power status, WPS, and Wi-Fi. Luckily there aren't too many to crowd out the router. The rest of your status indicators are shifted off to the side On the back, you'll find your necessary connectivity ports alongside the reset button, power button, and power plug. The back is also where you'll find four chunky Wi-Fi antennas And on the underside, you can find mounting holes so you can put your modem up on a wall instead of flat-faced on a desk. However, do bear in mind this can be a bulky router, especially when it weighs 3 lbs. It is certified docsis 3 1 cable modem routerby Comcast and XFINITY internet for Gig Speeds like docsis 3 1 modem  making it a fantastic cable modem router!
See Reviews & prices Here
Connectivity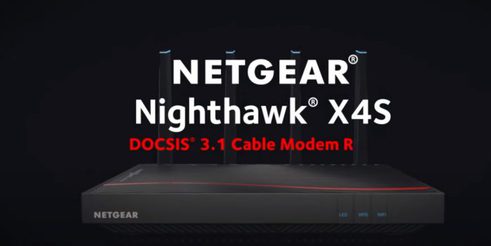 In terms of connectivity, Netgear has managed to fulfill the needs of most people.  There are four-gigabit ethernet ports on the back that can provide speeds of up to 2 Gbps for all your wired devices. This means that you can hook up your desktops to blazing-fast speeds with minimal issues with docsis 3 1 whic is the updated version of docsis 3 0.
We checked with Engineering Services Canada about the stats :  wireless capabilities, you have AC3200 Wi-Fi bundled with this router. This gives you speeds of 3200 Mbps for all your wireless devices using docsis 3 1. You can easily watch high-quality video streams on your phone, smart TV, or tablet using the C7800.
These options are great enough on their own. But to beef it all up, Netgear has also added in two high-speed USB 3.0 ports on this modem. That gives you the option to connect them to devices that don't necessarily connect in conventional ways.
Connecting devices over USB is easy and gives you more options than just a computer or your phone. You can hook up a printer for print server capabilities or even stick a USB drive in there for a file server.
Security
In this day and age, keeping your network secure is of the utmost concern. The last thing you want is someone getting a hold of your private network and doing something nefarious with it.  Luckily, the C7800 gives you plenty of options to protect your home network from anything shady.
For wireless security, you have top of the line WEP and WPA/WPA2 protocols for protecting your Wi-Fi networks. This makes it virtually impossible for anyone to hack your Wi-Fi passwords.
You also get WPS capabilities that let you connect to the router without giving out your passwords. You can make guests account on the router that makes it easy to share your network with friends or family without giving out passwords each and every time.
For concerned parents, Netgear has included parental controls right out of the box. This lets them lock down networks and settings from their kids if needed. It can be great for restricting access or keeping them off the Wi-Fi during study hours.
modem router combo Performance with cable internet providers

Performance is worth writing home about on this modem. It offers fast high-speed connections that keep you connected 24/7 for greater internet speeds. Both the wired and wireless connections will offer you blazing fast internet speeds.
The wired gigabit LAN connection will give you up to 2 Gbps internet speeds  while the wireless connection will give 3200 Mbps right out the gate. The connection remains rock solid and steady when you're using and rarely ever dips or drops off your internet speeds .
There are four antennas on this modem that give you that beefy wireless connection. All of the antennas are supported within guilt high gain amplifiers. This boosts the Wi-Fi signal beyond the standard range that you will find in most conventional routers and modems.
In fact, the C7800 gives you 3000 sq ft of full wireless coverage. This is more than suitable for most homes and apartments out there. You can be sure that your connection isn't going to drop if you move from one part of your house to another.
The combination of speed and range performance makes this modem a very versatile fit. Not only is it great for work applications, but it goes above and beyond that.
One of the biggest reasons people buy the C7800 is for the entertainment capabilities it can offer. With such high-speed wireless internet, you can easily enjoy all your favorite movies and TV shows in UHD 4k without putting any compromise on the quality.
The dual core wifi router is a steady connection ensures that even gaming performance is above par. You can play all your favorite games online without suffering any kind of lag, network jitter, ping issues, or packet loss. You can also watch live streams of your favorite players and even professional sporting events without the network cutting out during the action.
See Reviews & prices Here
Netgear Support with major cable internet providers
Netgear has provided extensive support for the C7800. You can be sure that you won't face any major problems getting this modem up and running out of the box.
Support for all major ISPs is present, so you don't have to have a specific company for you to use this modem. All major companies like Comcast, Cox, Xfinity, and many more are supported.
That said, there are a few exceptions, such as Spectrum, Verizon, AT&T, CenturyLink, DSL providers, DirecTV, DISH as well as voice bundled services. But for the most part, you won't face a ton of issues with compatibility.
You won't any problems with hardware or software compatibility either. You'll be able to run the modem and its setup utilities with any modern device. Computers with Windows XP, 2000, 7, 8, and 10 are recommended as a minimum. It also works flawlessly with UNIX or MacOS operating systems.
Once its setup, you can access the modem settings page with any device that has a working browser. So even smartphones, smart TVs, game consoles, and other devices should be able to work here.
Pros
Fast network performance on both wired and wireless networks.
Extensive Wi-Fi range
Included USB 3.0 port for print and file server capabilities
Works on most major ISPs in the country for 5 stars
Plenty of Gigabit ethernet ports for 5 stars
netgear genie to help guide you though setup
Cons
A bit bulky
Not supported on Spectrum, Verizon, AT&T, CenturyLink, DSL providers, DirecTV, and DISH.
some comparisons to netgear nighthawk x4s or the nighthawk x4s ac3200  not quite as many features
In a Nutshell
All in all, this modem provides a 5 stars solid bundle for those looking to get the best out of their internet connection. It provides the fastest speeds through channel bonding that you could ever think to achieve. It also gives you top-notch security and unmatched range for all your wireless devices.
All this mounts up to be an impressive package for those that want an upgrade over their standard ISP provided modems. With that, you'll also be saving hundreds of dollars in equipment rental fees every year. That alone makes this is a worthwhile purchase. Looking for other5 stars netgear  3 1 cable modem  like the netgear nighthawk x4s  or see Netgear N600 review